Do you think that digital marketing is a flash-in-the-pan trend that's going to fade out soon? Neither do we. Every business owner and marketer has the same problem: you know that it makes sense to stay on top recent trends and strategies in the social media world, but you don't know how to do it. You've tried everything, but you still feel like you're falling behind. You've heard the same advice over and over, and you're ready for something out-of-the-box.
I have created Table for those who are in HURRY to pick and search by their interest and you can find links to purchase at the end of the post.
Pick up a copy of the following books by
Reading Review
. You can thank me later.
[table id=1 /]
1. #AskGaryVee: One Entrepreneur's Take on Leadership, Social Media, and Self-Awareness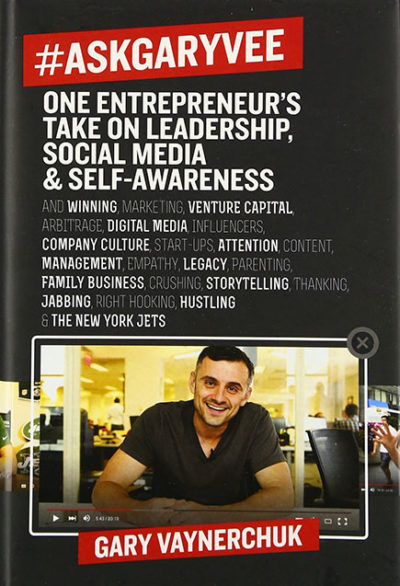 Gary Vaynerchuk
It's a nod to the world of digital marketing that the title of this book starts with a hashtag. Author and podcaster Gary Vaynerchuk shares his experience and advice with readers. Learn about marketing and social media, plus entrepreneurship, from this book. If you're not sure if Vaynerchuk's style is a good match for you, listen to some of his podcast episodes first.
---
2. The Best Damn Web Marketing Checklist, Period!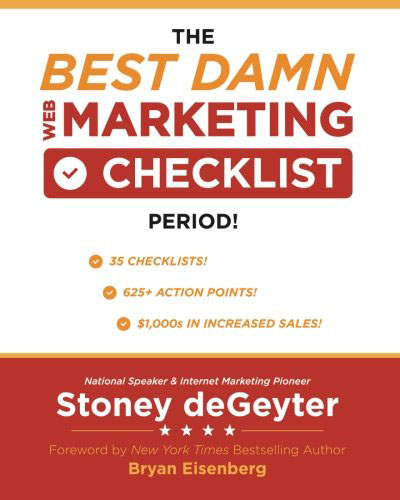 Stoney deGeyter
This book is jam-packed with tons of practical advice. There are a bunch of checklists included, making it a great reference source when you need a strategy quickly. It's also highly thorough, offering a lot of advice on all different aspects of online marketing. Learn about everything from creating logos and website navigation to developing home pages and more.
---
3. The Big Data-Driven Business: How to Use Big Data to Win Customers, Beat Competitors, and Boost Profits by Russell Glass and Sean Callahan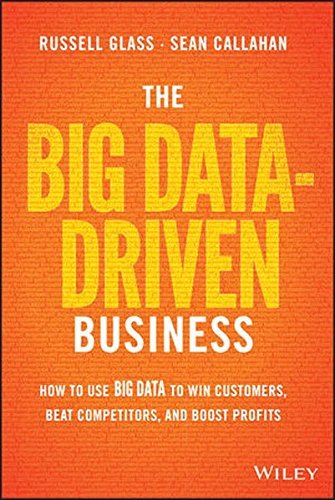 Tracking and analyzing data is an integral part of any digital marketing campaign, but it can be overwhelming and difficult to understand. This book helps to clarify data and how it can be used to a brand's benefits. Any marketer who wants to target audiences online in an effort to grow their business should read this book.
---
4. Content Chemistry: An Illustrated Handbook for Content Marketing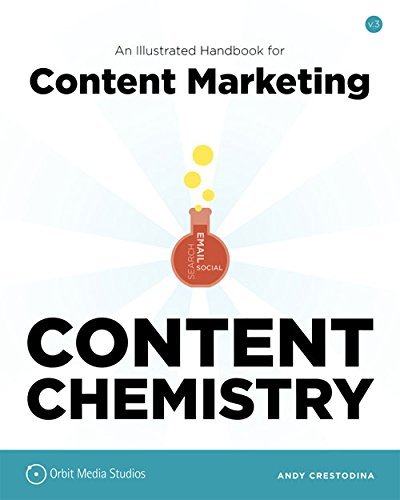 Andy Crestodina
This is an excellent beginner's guide to content marketing. The basics are covered, including marketing on platforms like social media and email. The basics of search engine optimization are also included. Additionally, this book delves into the creative side of content creation. Content Chemistry is an easy read, making it possible to learn the ropes of content marketing and immediately start applying the techniques to your marketing campaign.
---
5. The Conversion Code: Capture Internet Leads, Create Quality Appointments, Close More Sales
Chris Smith
The greatest digital marketing campaign in the world won't be successful if it doesn't increase your sales. In The Conversion Code, Smith tells you how to capture leads and then turn those leads into actual sales and profits. There are a lot of brands out there that have high numbers when it comes to visitors but that are struggling to turn those visitors into actual customers.
---
6. Digital Influencer: A Guide to Achieving Influencer Status Online
John Lincoln
Some people think that becoming an influencer online is simply about luck. Lincoln believes that influencers can be made, though, and his book aims to help people reach that status. This book is ideal for individuals who want to be hailed as experts in their field or niche. He helps you determine the information that your peers are looking for and lets you know how you can provide it for them.
---
7. The 1-Page Marketing Plan: Get New Customers, Make More Money, and Stand Out From the Crowd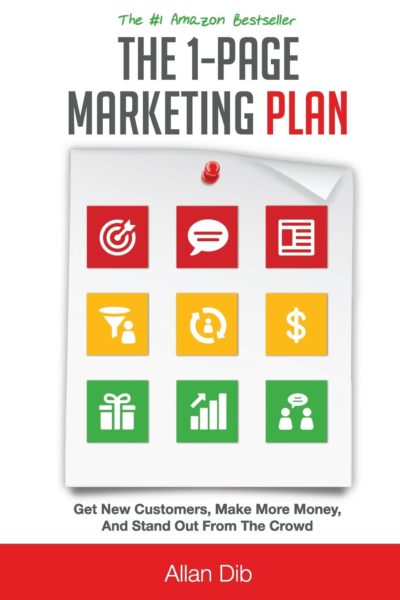 Allan Dib
This book cuts right to the chase: if you want to get marketing from the outset and begin making money, you need to rid your campaign of anything that's working against you. You'll create a simple, straightforward marketing plan quickly, giving you extra time to execute it and start making your footprint online.
---
8. How Entrepreneurs Use Content to Build Massive Audiences and Create Radically Successful Business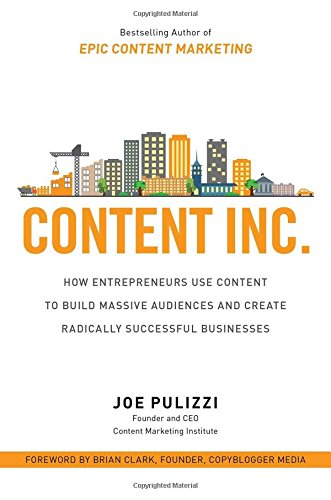 Joe Pulizzi
You've heard it a million times before: content is king. So many business owners and marketers don't know what that means, though. This book helps people understand how important content is to their success. Additionally, it offers a sort of blueprint for creating and developing the type of content that will most help your brand. By knowing your audience, you'll be able to create content and products specifically for them. This book also has a lot of real-life examples that you can get inspired by.
---
9. Hug Your Haters: How to Embrace Complaints and Keep Your Customers
Jay Baer
Digital marketing has made it incredibly easy for customers to complain about your company in a public way. When negative comments go unattended to, they can seriously drag down your reputation. Dealing with unhappy customers and responding to complaints isn't just a big part of running a business, it's an integral part of managing your digital footprint. This book helps business owners to figure out what type of unhappy customer they're dealing with and then, in turn, how to handle the issue they're faced with.
---
10. Linked to Influence: 7 Powerful Rules for Becoming a Top Influencer in Your Market and Attracting Your Ideal Clients on LinkedIn
Stephanie Sammons
LinkedIn is a great tool for people who are looking to stand out as a leader in their field. This book is perfect for people who already know a lot about LinkedIn – you'll be surprised to find even more tactics that you've never heard of before. The focus of the book is to increase trust in your audience by consistently providing valuable content.
---
11. The Third Wave: An Entrepreneur's Vision of the Future
Steve Case
Steve Case is a highly accomplished entrepreneur, so we stand behind just about any advice he has to offer. In his book, he shares a sort of map to succeeding in the social media and digital marketing world, even as technology changes and advances around you. This is a great book for anyone who wants to do a deep dive into the world of digital marketing in order to update and upgrade their own campaign while learning how to predict the changes that are sure to come.
---
12. Platform: Get Noticed in a Noisy World
Michael Hyatt
Hyatt tells readers how to create their business using social media platform and also how to grow their brand on the same platforms. The book includes secrets from people who have successfully done both, including entrepreneurs, authors and public speakers. Hyatt emphasizes the need for a great product and a platform that can help promote it. He also helps people monetize social media platforms. Hyatt himself is successful on social media and is a well-known blogger.
---
13. Digital Passport: Your Pass to a Promising Career in Digital Marketing
Hafiz Muhammad Ali
Are you looking for a career in one of the hottest growth industries? Digital marketing offers growth, challenge, and opportunity whether you have a creative soul or an analytical mind. Digital Passport offers a practical roadmap whether you are joining the workforce or seeking a mid-career change.
Students and recent graduates benefit from advice from the author's insight gained through decades of experience in the field.
Mid-career professionals gain insight to help them transition from dying industries to the emerging field of digital marketing.
This book explores a range of aspects internet marketing including eCommerce, social media, search engine optimization, advertising, website analytics, mobile and more!
Digital Passport
provides insider insights on how to launch a successful and prosperous career in internet marketing.
---
14. The Power of Broke: How Empty Pockets, a Tight Budget, and a Hunger for Success Can Become Your Greatest Competitive Advantage
Daymond John
John is one of the professionals who "Shark Tank" viewers will instantly recognize. His book is about launching a business and building a startup when you have very limited means. Since digital marketing is one of the most inexpensive ways to promote a business, this book is ideal for people who want to build something even when they don't have much of a budget to dedicate to it.
---
15. Social Media: How to Skyrocket Your Business Through Social Media Marketing! Master Facebook, Twitter, YouTube, Instagram and LinkedIn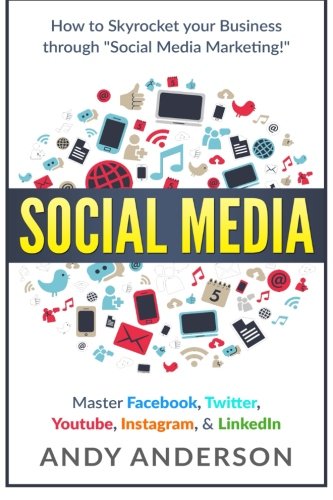 Andy Anderson
This book is perfect for brands that want to use social media platforms to sell their products or services. There's a lot of information about increasing brand awareness, becoming an authority in your niche and improving customer loyalty. You'll also learn how to increase traffic to your website, increase conversions and make more sales. If you already have a working knowledge of various social media platforms, this is a great book to expand your education.
---
16. Web Analytics 2.0: The Art of Online Accountability and Science of Customer Centricity
Avinash Kaushik
Known as a thought leader in the world of web analytics, Kaushik helps people make sense of analytics, something that many business owners and even marketers don't know where to start with. This book will help you create strategies to track and analyze statistics, and it will also teach you how to genuinely listen to your customers to craft an enjoyable experience for them.
---
17. Social Media Marketing Workbook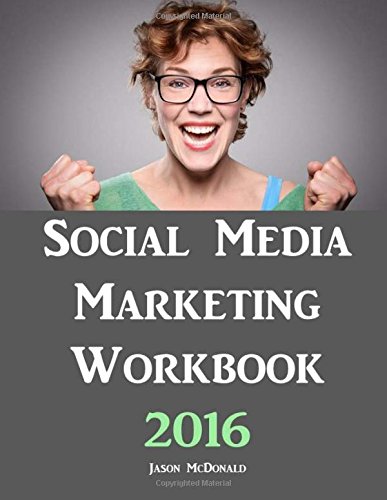 Jason McDonald
The 2017 edition of the Social Media Marketing Workbook has been updated to include PDF worksheets, video training programs, marketing techniques broken down into actionable steps, and guides for using a variety of the biggest social media platforms today. Businesses of all sizes can benefit from McDonald's insight and guidance. This workbook is particularly useful for people who want to know how to use social media for marketing without having to spend any money. Learn things like how to post on social media and which social media tools are available at no cost. If you feel overwhelmed by digital marketing and social media, this workbook breaks everything down into non-threatening steps.
---
18. Trust Me, I'm Lying: Confessions of a Media Manipulator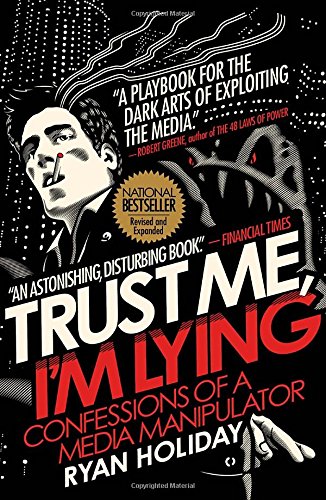 Ryan Holiday
Ryan Holiday is a social media expert and self-proclaimed media manipulator. This is a great book if you're interested in creating viral campaigns. He doesn't promote lying to the public, but instead encourages people to use the Internet as a way to shine light on realities and truths.
---
19. No B.S. Guide to Direct Response Social Media Marketing: The Ultimate No Holds Barred Guide to Producing Measurable, Monetizable Results with Social Media Marketing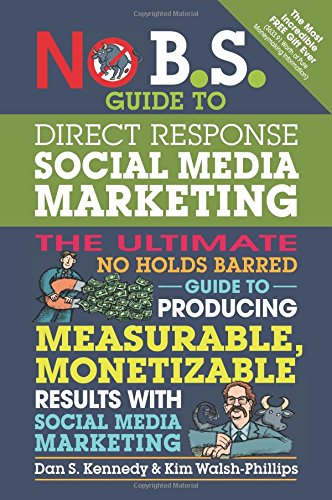 Dan S. Kennedy and Kim Walsh-Phillips
This is an excellent book for anyone who wants to cut through the noise of social media marketing advice and start doing only the things that matter and make a difference. The authors help you understand what tactics are a waste of time (liking and sharing individual posts, for example) and which ones should take up a majority of your attention and advertising budget. The book will help you target your core audience and increase both leads and sales. The suggestions in this book are practical and easy to apply immediately.
---
20. The Art of Social Media: Power Tips for Power Users
Guy Kawasaki and Peg Fitzpatrick
Kawasaki isn't just a former Apple big-shot, but he's also a hugely well-known name in everything from business blogging to social media marketing on Facebook and Tumblr. Fitzpatrick is also an expert at social media. This book helps people who don't know where to start by teaching them how to get the foundation in place for social media marketing. In then goes on top guide readers on how to make the most of your online presence using blogging and social media.
---
21. The Content Formula: Calculate the ROI of Content Marketing and Never Waste Money Again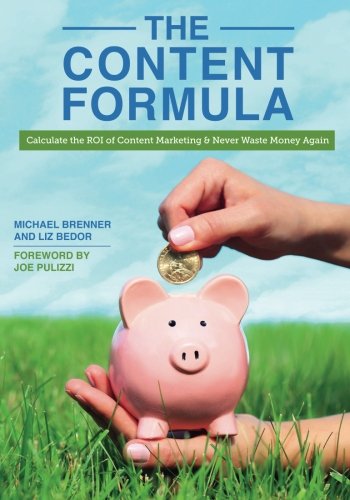 Michael Brenner and Lix Bedor
Marketers know how important it is to figure out the return-on-investment of their content. This book helps people who aren't sure how to best use their budget or who feel they have already wasted some money on content marketing and aren't sure what to do next.
---
22. Momentum: How to Propel Your Marketing and Transform Your Brand in the Digital Age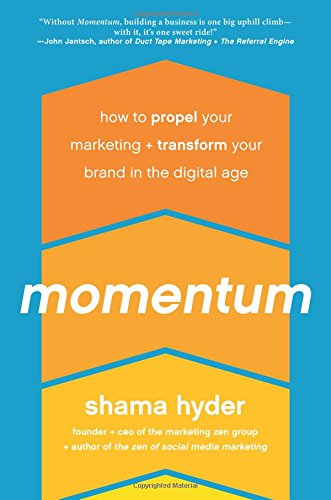 Shama Kabani
There's an overwhelming amount of opportunities in the world of digital marketing. This book aims to help people narrow down their choices and pick only the ones that will work the best for them. The book focuses on five essential principles: analytics, customer service, integration, content, and cross-pollination. There are a lot of branches to digital marking. Knowing how to make SEO work for you, understanding how to best use each social media profile and developing a website that reflects your brand are just a few of the strategies you'll need to learn. By educating yourself, you'll know the ins and outs of digital marketing to make your campaign stand out from the crowd indeed.
---
Books in the Post to Purchase: