Social media is here to stay and whether you love it or hate it, it's a smart way to reach out to your audience.
Despite the privacy concerns and ongoing controversies, more people than ever are joining one service or another to share their thoughts and feelings with the wider world.
There are over 3.3 billion social media users right now and the number is expected to grow even more by 2020.
But when every other company on the planet is trying to appeal to their consumers via Facebook, YouTube, Twitter, Snapchat, etc. it can be difficult to make your voice heard, especially when the demographic is changing on these platforms.
While Facebook and Twitter were popular among the teen, Snapchat and Instagram have taken over now.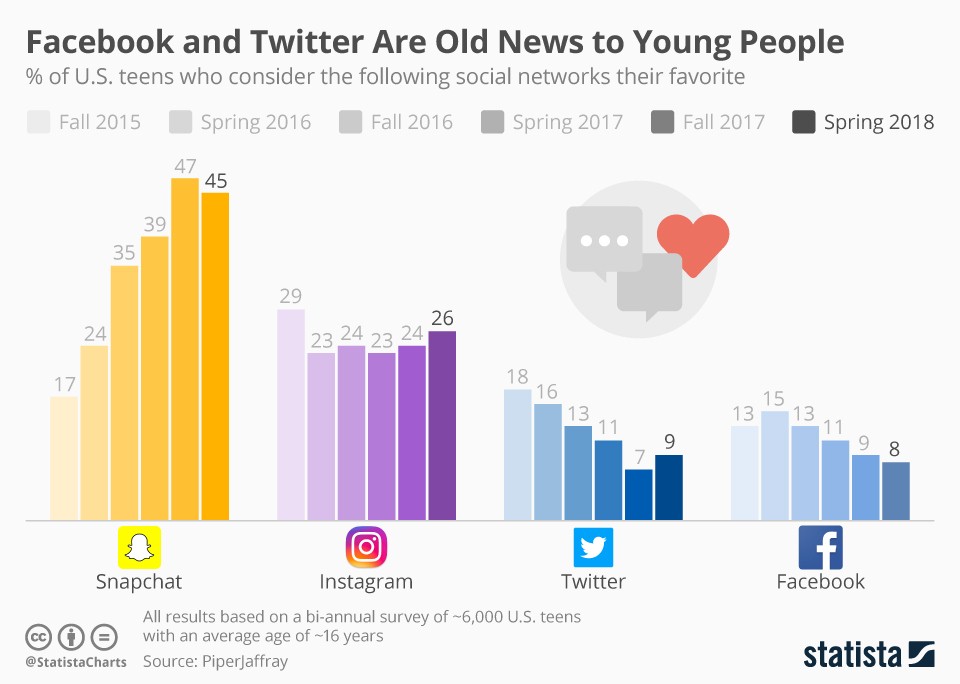 One of the best things an advertiser can do is hone in on the exact type of person they're looking for.
Thankfully, the longer social media is around, the easier it gets to pinpoint a demographic down to the most specific details.
You should not only have an idea of what you want to say but where they want that message to show up on screen.
How people interact with content can sometimes be more important than the content itself. In other words:
Put your content where people will see it.
Your strategy will only work if you're committed to sticking with it. The responses at first may be slow but consistency is the only way to get a foothold in a saturated medium. Regardless of the platform you favor, you can engage customers in real ways that could translate into real profits.
From memes to polls to quizzes, you want to establish a balance between you and your desired demographic.
You're on social media to tell your story, but you also want your customers to have the opportunity to tell theirs.
Below are 10 ways for you to maximize your social media efforts:
1. Have a Strategy
Before you get started, you should have a formally documented strategy that dictates your goals, your target audience, and how you plan to grow over time. A strategy will keep you focused and on track toward your goals.
2. Content vs. Context
"If content is king, then context is God."12 Where you place your content is as important as the quality. Use social media channels wisely, and for your targeted audience.
3. Target Your Audience
Facebook ads work because they are the most targeted. "You can be as specific as defining your customer down to the socks she's wearing."13 Defining your audience on any social media site will improve your marketing results.
4. Use Google as an Ally
Google's rules work to match the best results for each query. Make Google aware of your content by sharing to Google+ and YouTube.14 Since Google owns both sites, they get a priority in search.
5. Don't Forget Mobile
Four-in-ten (42%) adults ages 65 and older now report owning smartphones, up from just 18% in 2013.15 60% of online searches are from mobile devices.16 Mobile-friendly content can be accessed and shared from any device.
6. Stay Up-to-Date with New Technology
"Facebook's new dynamic creative tool enables brands to input multiple options for each of the elements that make up an ad and have Facebook automatically piece together various versions of the ad on the fly to appeal to different audiences and accommodate different placements."17
Social media sites are constantly improving their advertising technology. By using their advanced targeting, you will have better results.
7. Use Social Media Consistently
Sporadic use of social media sites will not build traffic reliably. Visiting sites consistently, once a day, once a week or once a month nets better results.
8. Actively Interact with Followers
Using polls, questionnaire, and contests to engage your readers regularly.
9. Don't Forget Video
Video has gained traction with the advances in mobile technology. YouTube is the 2nd largest search engine, and most social media sites allow video.18
10. Tell Your Story
Use Instagram stories or Facebook Live to tell your story in short bursts.
Check out the infographic below: