How do you plan on tracking and measuring your organic search performance? In other words, what metrics are you going to use to know if your SEO strategy is working or not?
Here are some proven ways to measure it:
a). Increase in ranking: What keywords are you ranking for? Before you mapped out your SEO strategy, assuming you're ranked at page #3 for your target keyword, where are you ranked now?
No matter how small the improvement, it's a good thing. If you're ranking on page #2 after one or two months, then you're doing great. Remember: SEO is an ongoing marketing technique — there's no shortcut whatsoever.
b). Increase in traffic: Is your organic traffic growing? If yes, then your strategy is probably effective. On the other hand, if you're ranking high for your target keywords but your click-through rate is low, you can simply improve your title tag to get more eyeballs on it.
I've shared proven ways to get more clicks on your search results, such as front-loading keyword, adding an odd number in your title, crafting a persuasive meta description, and using schema markup.
c). Increase in Goal Conversions/Leads: Are your goals being met? If you set a goal to drive clicks to a particular page, how successful has it been so far?
Essentially, for this to be effective, you need to create conversion goals in Google Analytics.
The first thing you have to do apart from the basic installation of Google Analytics is creating goals. This will help you to track actions visitors take on your website, such as signing up for your email list, submitting a lead generation form, making a purchase, submitting a quote form, etc.
Follow the steps below to set up your goals.
The goal setup area can be found on your website's Google Analytics admin under "view column." The easiest way to get started is to select a template.
Select the destination type: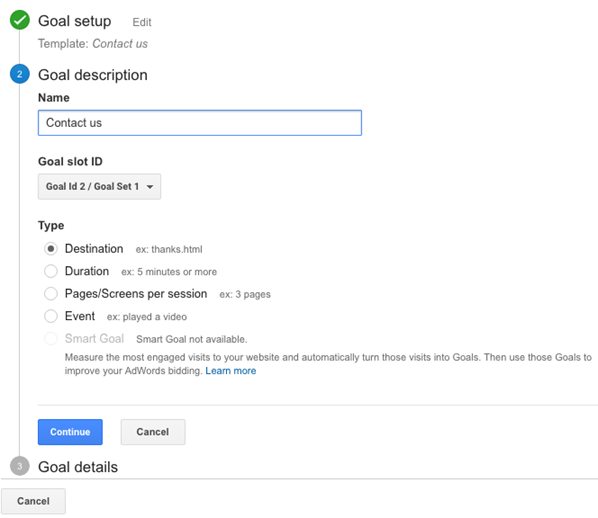 Enter the destination URL. This means the URL that a visitor would be redirected to after completing the goal that you are tracking. And that's it!
Pro Tips: Google Analytics doesn't tell you exactly how your business is fairing without some input and additional setup. It's your job to tell Google Analytics what to measure, how to keep track of what's important to your business, hence you should spend more time setting up your Goals.
Make sure you tracks goals with respect to URLs, Time, Pages/Visit, and Events. Sure, it's good to track pageviews and visitors and to feel excited about traffic growths, but those are vanity metrics.
A smart marketer would rather focus on important metrics that actually helps grow a business such as Leads, Trial Signups, Ebook Downloads, Account Creations, Software sales, etc.