First, a competitive research is the process of tracking who your competitors are, what they are doing, where they are and what makes them more visible online, especially in the search engines. The goal is to gain a competitive advantage by leveraging their data to improve your campaigns.
There's no business that exists on its own. No matter the industry or model, there will always be competition. The question isn't whether you have competition, but your attitude towards it. Do you run from it face it squarely and use the insights and data gained to your advantage?
Competitive research can help you grow your business. It doesn't matter what you're struggling with right now, you can still bounce back stronger. Through this marketing tactics, Starbucks made a big splash in China with over 1,540 company-operated Starbucks stores in China between 2015 and 2017.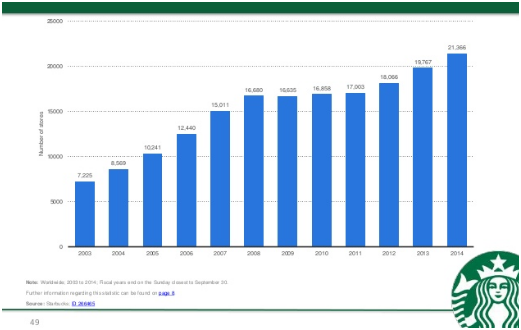 Competitor research can transform your blog. Trust me. All it takes is a bit of research!
If you're going to achieve your business' goals and clear every assumption along the way, you must be ready to spy on your competition. Yes, you can go ahead despite the competition if you dare to know more your core competitors, what they are doing, identify their strengths and weaknesses, and much more.
Through competitor research or competitor analysis, you become a secret CIA agent who uncovers hidden secrets.
When you perform an in-depth study and go deeper into your competitor's web assets, you will discover how your business stacks up in terms of keywords, backlinks, social media presence, and more.
With such information which you can't find by merely visiting your competitor's website, you can devise strategies to outsmart and outperform them in the search engine results pages (SERPs) — as well as achieve your business objectives.
To get the most out of your competitor research, follow this 3-step process:
Identify the top competitors
Leverage competitor top keywords, links, and content archetypes to your advantage
Improve your overall marketing strategy
a). Identify the top competitors in your market: If you're targeting local consumers, then you should already have an idea of who you're competing against. But whether you're marketing to a local audience or you're stretching far and wide to other countries, conducting a simple research can help you find your top competitors.
It's simple, start with Google search engine.
Simply enter your keyword (e.g., Employee wellness programs.) into the search box, assuming this is the primary keyword you want to eventually rank for, and search for it. Here's the result: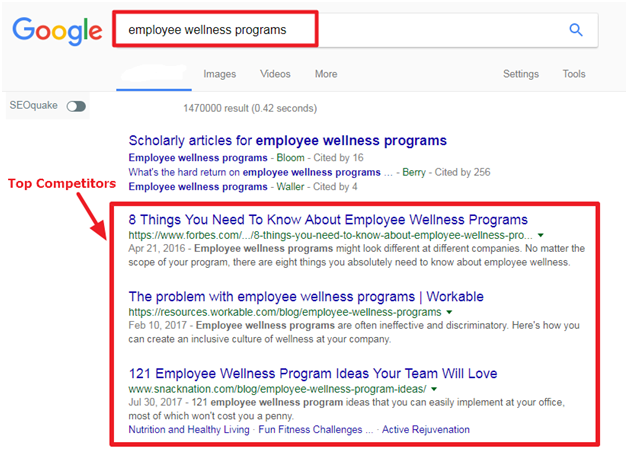 Another way to find your top competitors in the search engine is through
SimilarWeb
. Simply enter your website URL in the search box, and click on the "Start now" button.
Then, scroll down the page to find the top Competitors and Similar sites in the US for Dodocase.com.
b). Gauge overall UX experience, leverage competitor top keywords, links, and content archetypes to your advantage: Having known the top competitors in your market, the next step is to examine their website.
You want to find the top keywords, best links, and the type of content your top competitor is focusing on. This will help you optimize your own campaigns, create more compelling content, and improve the overall user experience of your customer.
Take a few moment to check out their websites and see how they structure their pages, what is the overall user experience (UX) the website offers. If it's an ecommerce website, check if it's easy for customers to place an order.
In terms of user experience, bear these questions in mind:
Is the navigation simple, and does the website state clearly what it offers?
Does it tell the visitor what action (e.g., buy software) to take and how to take it (e.g., download now)?
While on the website, if you notice that the website doesn't encourage visitors to take an action, even though they have delivered great content, then that's their weakness — a loophole that you can capitalize on.
More so, if the call to actions (CTAs) are not distinct and doesn't lead the visitor towards the desired end goal, whether that be a subscription to a newsletter, filling a form, or downloading a whitepaper, that's another weakness of your competitor but your strength.
Talking of user experience, and considering how important it is to Google, you can learn from your competitors how they position their call to actions, how they tell stories, and even the colors and graphics they use in their offer.
Find competitors keywords:
After analyzing your competitor's website, it's time to get their top keywords. This should be the same keywords you're trying to rank in Google top organic results pages.
To help you do just that, let's use SEMrush. Enter your competitor's website URL (e.g, SnackNation.com), then see the number of keywords generating organic traffic for them.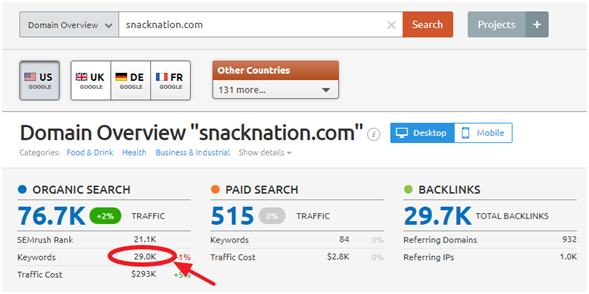 There are 29.0k keywords generating a total of 76.7,000 organic traffic for SnackNation website.
Next, just click on the keywords tab to find some of the top organic keywords + the positions (where they're ranked in the organic results).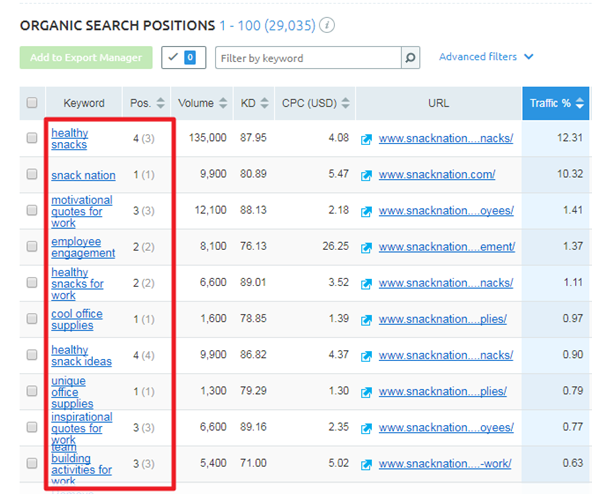 If you're in the Employee Wellness Programs market, for example, and you want to know the right keywords to target, as well as their monthly search volumes, the research above has opened your eyes. I'm sure.
You may not rank #1 for head keywords such as:
Employee engagements
Healthy snacks
Employee wellness
But you can target the long-tail keywords which also have decent search volumes. Some of them are:
Team building activities for work
Healthy snacks for work
To find even more long-tail keywords, click on any of the "head keywords" and you will see the related keywords.

Find competitors links:
Can I be straight up with you? Your competitors aren't ranking in Google top 10 results because of their keywords but because of their links. Where are they getting links from, and how can you find out?
Trust me, it's damn simple. Still using the SEMrush tool, after analyzing your competitor's URL, click on the "Backlinks" tab at the left-hand corner of the page.
Here's the backlinks data below:
And which domains/websites do these links come from?
Simply click on the "Referring domains' tab, scroll down a bit and you'll see the referring domains, and when the link was added: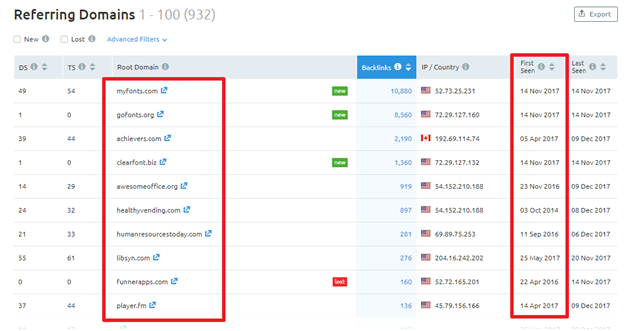 By looking at the above screenshot, you can see that SnackNation.com has almost 29.7k backlinks from 932 Referring domains and 1k Referring IPs.
Improve your overall marketing strategy: All of these keywords, links, social assets and insights that you gain from your competitors will do you no good until you apply them to your marketing strategy.
In case you're not aware, the competitive research we just conducted is in-depth. We've been able to assess each competitor's exact techniques and overall marketing strategy as it compares to yours.
You don't have to spend a lot of money to make your website mobile-friendly, simply use one of the mobile-responsive WordPress themes from Themeforest, and your website will start displaying well on any screen.
For a more successful marketing campaign, especially while you're waiting for your organic keywords to start generating traffic and rankings, you can use SpyFu to uncover top keywords that your competitor is bidding and targeting, and also the Monthly Cost — then, use the keywords to launch a successful SEO campaign that will drive organic traffic and rankings.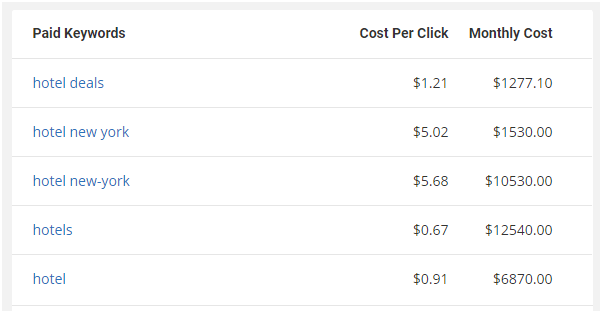 Before creating content or taking any further action, you need to know your audience (Marketing 101). So, let's discuss it.
Define a Target Audience: How to Know Your Audience to Create Winning SEO Campaigns
The first step in almost every marketing campaign, SEO included, is to define your target audience. I bet you already know what I mean by "target audience," but in case you don't, it is a defined set of people who you are marketing your products and services to. These are the people who will likely find your website in the search engines.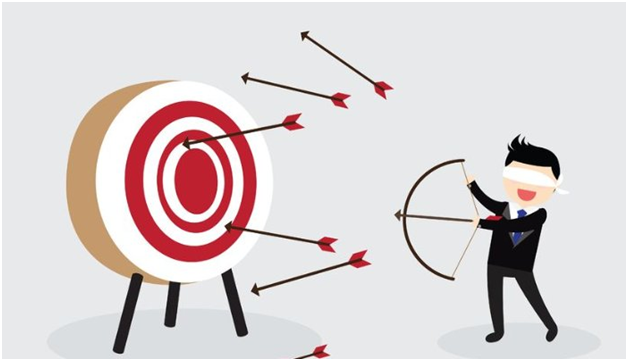 Typically, defining a target audience involves knowing their sex, age, geographic locations, and their needs (i.e., pain points).
What we want to find out about our SEO Strategy are those pain points. What are their needs that aren't being met? What is keeping them awake at night when others are sleeping?
Knowing all these about your audience will help you to better define a good content strategy and prioritize content that will grow your search traffic, leads, and revenue.
Apart from the content, knowing your audience will equally help in "target keyword discovery." It's a 3-path plan:
Topic Idea: What specific idea is your content centered on? For example, Project Management
Keyword Discovery: What specific words and query do you think the potential customers will use to find your topic idea? For example, best project management tool, how to use project management software.
Keyword Evaluation: Which of the words used by the potential customer will drive the best traffic, leads, and sales for you?
Essentially, it means that when you're doing keyword research, you'll want to do it based on what the audience wants, not solely on what you think your website needs, or what content the website already has.
Now, when it comes to identifying your target audience, one of the best ways to go about it is to use social media listening platforms.
Social listening involves monitoring the various social media networks to find out what is being said about your brand, your competitor's brand, and topics that are relevant to your business.
In the words of Neil Patel:
"Social listening includes being aware of what people are saying about you on social media and then responding appropriately. It's half-awareness and half-response—the response part is critical. Basically, social listening boils down to good communication."
Through social listening, you will be able to gain enormous insights that will help you to know who your target audience is and what they need.
One of such tools I'm so fond of is Buzzsumo. With this tool, you can easily see what's popular in your industry judging by their social shares. And as you know, if something is popular, it simply means that people are interested in it.
Using the "Paleo" market as an example, here's the result that I got when I entered the keyword into Buzzsumo: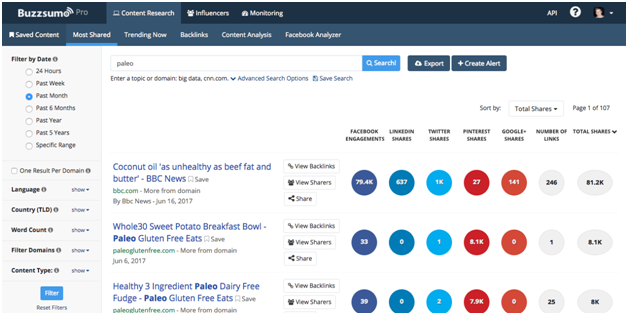 With Buzzsumo, you'll always be informed of what people like in your niche. Another fantastic tool I often use to figure out what questions people are asking in my niche is Quora.
These questions and answers will give you an idea of what challenges your audience is facing and how you can help them out.
For example, Brian Dean discovered a question on the Quora that is highly relevant to his industry (i.e., SEO). Someone asked to know "why Google hates his website."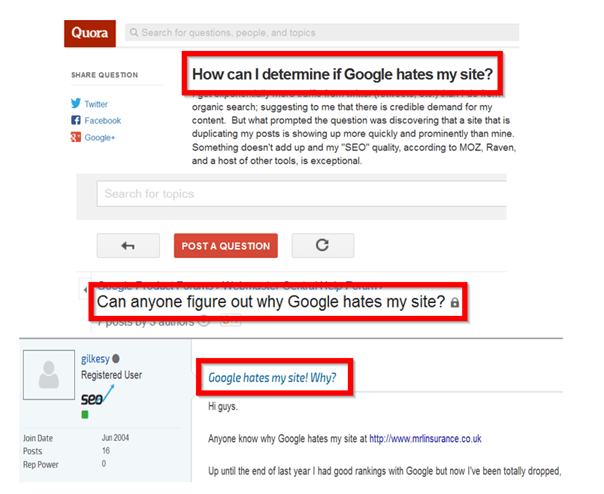 Since this question generated lots of attention on Quora, Brian used it to create a comprehensive post on the topic, which ended up ranking on the first spot of Google for the keyword "Google hates my site."
If you're still finding it hard to know your target audience, then scouring through the questions and answers on Quora could be helpful.