Keywords are topics and ideas that define what your blog post is about. With regards to SEO, they're the phrases and words that searchers put into search engines, also known as "search queries." while searching for a particular subject.
As a content marketer and online marketer, part of your job is to find and use keywords that people are inputting into the search engine.
There are basically two types of keywords you will likely come across:
Head Keywords
Body Keywords
Long-tail Keywords
Head Keywords
Head keywords are keywords that are the most frequently searched for by users on the search engines. They tend to be shorter, are less specific, and have a high search volume.
The term "backpack" for example, is a head keyword.
Head keywords can also come in single words. However, they usually have a very tough competition. Sadly, if you're on a low budget, or don't know how to build lots of high-quality backlinks, you might not be able to rank for such keywords.
As an example, you may want your online clothing store to rank higher in Google for a search term like "clothes," but it's going to be extremely difficult to outrank Nordstrom and Kohls, and Boohoo in the organic listings page.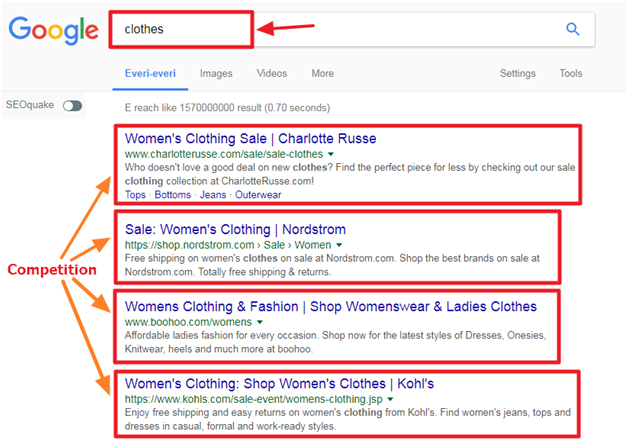 Apart from the intense competition, head keywords can be annoyingly vague. If someone is searching for "digital camera," for instance, you don't know if they're looking for information about digital cameras, camera brands, or where to buy a camera.
Body Keywords
Body keywords are phrases that contain 2 – 3 words that get decent search volume (between 1,000 – 2,000 searches per month). These keywords are more specific than the head keywords, with a much lesser competition than the head keywords but they still have lots of competition.
Examples of body keywords are:
Buy hair cream
eat fresh pizza
air hostess programs
small business grants
Long-tail Keywords
Contrary to head keywords, long-tail keywords are more specific and longer keyword phrases that visitors are more likely to use when they are using voice search, or when they are closer to making a purchase online.
It's true that long-tail search terms have low search volumes, but they can generate tens of thousands of traffic to your website — about 70% of search traffic comes from long-tail keywords.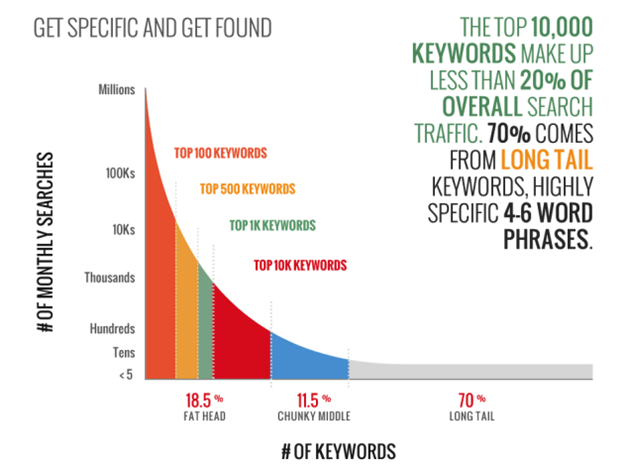 When Neil Patel started optimizing his blog posts for long-tail search queries, He increased traffic to his blog by 173,336 per month and grew search traffic by 53% in 3 months.
At first, they may seem a bit counter-intuitive, but they can be highly valuable in the long run if you know how to use them.
This type of keyword usually contains 4 or more words. They have a more clearly defined intent. For instance, "cheap dog walkers Seattle," "best organic dog food for puppies."
You'll also discover that "long-tail keywords" usually have less competition as compared to head keywords. That means the chances of a smaller website breaking in and making their impact on the search results are high.
You can find long-tail search queries using the KeywordTool.io. Simply enter your head keyword (e.g., men's belt) and click on the search icon on the right-hand side.
Next, choose the long-tail variations of your head keyword from the results: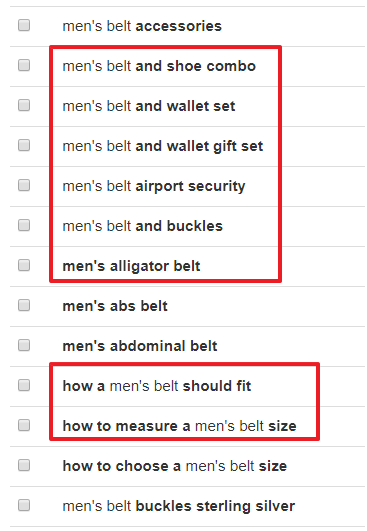 Moving on, you can also find great long-tail keywords on the "search related" section of Google search results. For example, when you enter the term "best running shoes" into Google, scroll down the results, and you'll see the related long-tail search terms: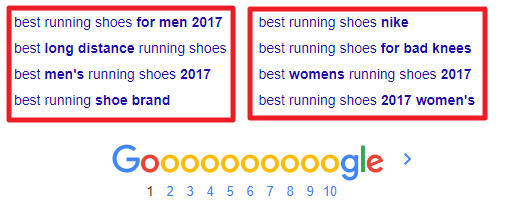 Say you have a shoe reviews website, and you're interested in reviewing the latest running shoes, you can optimize your article with one of these keywords.
Let's choose one of the long-tail keywords above and use in our content title.
If we decide to go with this: best long distance running shoes, then the different titles we can use will be:
7 Best Long Distance Running Shoes 2017: The Buyer's Guide
Best Long Distance Running Shoes for 2017 You Need to Check out
Have You Seen These Best Long Distance Running Shoes?
Why You Need to Buy One of These Long Distance Running Shoes: Customer Reviews.
Here's how a popular website targets long-tail keyword in their title: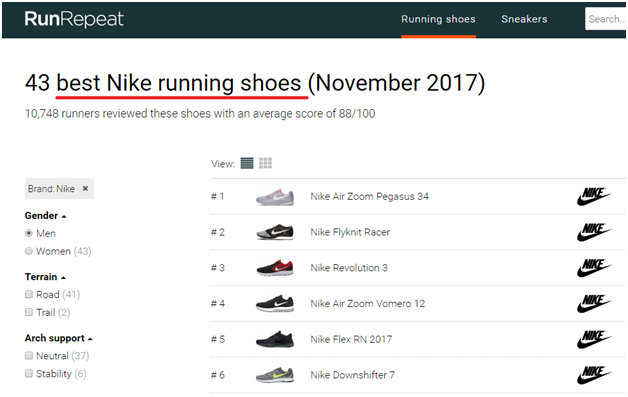 As a proof that you can rank long-tail variations of your keywords a lot easier, here is a search result showing websites that are targeting long tail key phrases related to "best running shoes".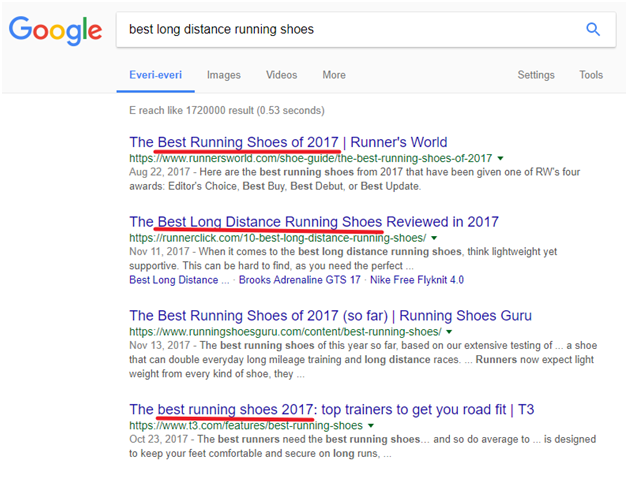 Note: To avoid stuffing keywords into your content, you have to tread carefully when using long-tail search queries. As a rule of thumb, mentioning the keyword in the title is fine.
To create a more relevant content without the risk of keyword stuffing, add LSI keywords in the body of the content.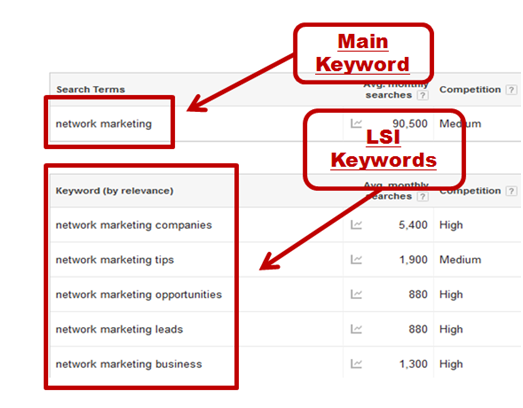 LSI Keywords
LSI short for Latent Semantic Indexing keywords basically synonyms and closely-related words and terms. When you use LSI keywords on your page, you make it easier for Google spider to understand the "intent" of your content.
It also prevents you from getting penalized by Google, because when you repeatedly mention a particular keyword phrase in your content, you wound up with "keyword stuffing" which is another manipulative SEO tactics you must avoid at all cost.
Here's how LSI keywords work and why Google cares about them:
For example, if you're creating an article about Apple Inc (the company), you will naturally want to mention some of their products such as MacBook, iPhone, iPad, and even the founder Steve Jobs. Mentioning these related terms will help search users and search crawlers to differentiate your content from another content that discuss "Apple" fruit. You get the point.
So when a searcher looks up information related to Apple company, all things being equal (you have built the right links, and optimized your page for the right keywords), your page will show up high in Google because of the LSI keywords you have on the page.
The related terms and synonyms on the page.
Because when you're writing about Apple company, you will naturally mention iPad, Mac Pro, iPhone 6 or any model, Samsung — you get the gist. You can't be talking about Apple fruit and mentioning Apple iPhone on the same page — it doesn't make sense.
Another example, instead of mentioning "best Nike running shoes" all the time in the body of your review, you can mention its synonyms such as affordable running faster, Nike jogging shoes, how to run, et al.
In modern SEO, simply include your main keyword in the title, then use related terms or LSI keyword phrases naturally in the body of your content. You will not be penalized. But rather, your content will be easier to understand by the search engines and users alike — and you will likely see a boost in organic search visibility.
Keywords Classification
Even though searchers are using different keywords (for example, running shoes, jogging shoes, shoes for working out) to search for your products online, your ability to understand the "intent" behind these keywords is key. It's the best way to serve your customer well and communicate better to them as they go through the different stages of the buying cycle.
Which stage are your potential customers in when they enter a keyword or keyword phrase into the search engine?
For better clarity, let's discuss the classes of keywords that your target audience will likely use today:
1). Informational Keywords: This class of keywords usually have a high-search volume but do not always lead to sales but can't be ignored either. They are informational keywords used to search for information on a  topic.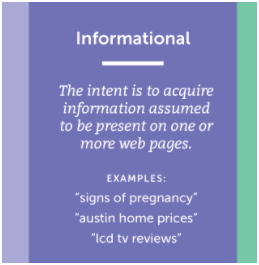 An informational keyword doesn't have any commercial intent. They are the typical "How-to" keywords.
Considering that thousands of people are searching for these keywords, it means you can generate massive traffic to your website if you rank high for them. However, Brian Dean classifies them as "Tirekicker keywords" that don't convert.
These keywords often start with:
How can I
Free ways to
Top list
Ways to
How to
Quick way to
Some examples of "Informational" keywords are:
How to knot a tie
Quick way to lose weight
Top 10 ways to raise capital
How can I make money online without spending money
Where to get health insurance
2). Navigational Keywords: When people want to find the exact location of a business they want to engage with, they often use navigational search terms.
This is another class of keywords you should optimize your web pages for. They are "navigational" keywords, with the sole purpose of helping the user navigate the website or product they already are familiar with.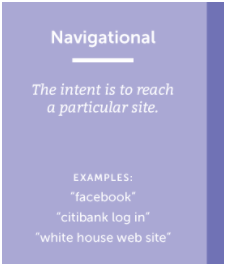 When search users input a brand or company name in the search engines, they are performing a navigational search. This search could translate into sales because they searcher already knows what they want.
For example, users who search for "Citibank login" are without a doubt customers. But they can't seem to find the login information on the company website. Hence, they came to Google for direction.
Examples of navigational keywords are Disney World, Honda website, Whitehouse, Facebook page, and so on.
3). Commercial Keywords: If you're in business to make money, then you should consider optimizing your content pages for commercial keywords. They can be referred to as "Buy Now" Keywords.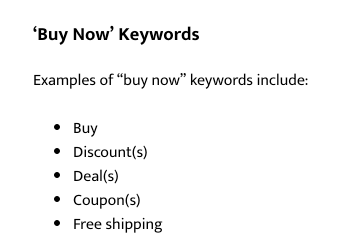 Commercial keywords are relevant to what the searcher is looking for online. Especially when they are looking to buy a product.
To a large extent, a given keyword can only be referred to as "commercial" depending on the website or business in question.
For example, if a website's main goal is to generate email leads via a free lead magnet for further marketing of Marketing Automation software, the keyword "marketing automation guide" would be relevant and deemed commercial.
For another website where the owner aims to receive phone calls for his "Business Accounting services," that wouldn't be the case.
Similarly, if you have a product review website where you're promoting outdoor gears, for example, then a keyword "Outdoor gear review" would also be valuable.

Note: If there are paid ads for the keyword, then it's probably a commercial keyword because businesses are paying for ads already.
Examples of commercial keywords" in the outdoor gear market are:
Best outdoor clothing brands 2017
Outdoor gear reviews
Best outdoor gears
Know what keyword to target in your post is important. If you choose an informational keyword, you should provide information for a particular problem. If on the other hand, you optimize for a commercial-intent keyword, then you're guiding the searcher to buy the solution to their problem.
Here's a major difference illustrated.