A lot of factors affect search engine rankings. It's not just about links, other factors are equally important. Let's look at a few important ones:
Content Freshness: Content itself is an important ranking factor. But it doesn't mean that if you have 100 blog posts in your archive that Google will rank your website higher in their search listings. No, it doesn't work that way. At least, not anymore.
Today, it's all about freshness and quality of content.
A 2017 benchmark report by HubSpot has, once again, shown that publishing more frequently boosts Google rankings.
However, publishing new blog posts is just one way to prove to Google that your website is fresh. There are specific steps that you can take to improve and freshen your old content even more.
For example, Brian Dean has published just about 32 blog posts in 2 years. But, he makes sure that all his content is up-to-date by regularly rewriting and adding new information to them as at when due. And don't forget to add the "last updated date" so as to keep it fresh in reader's eye.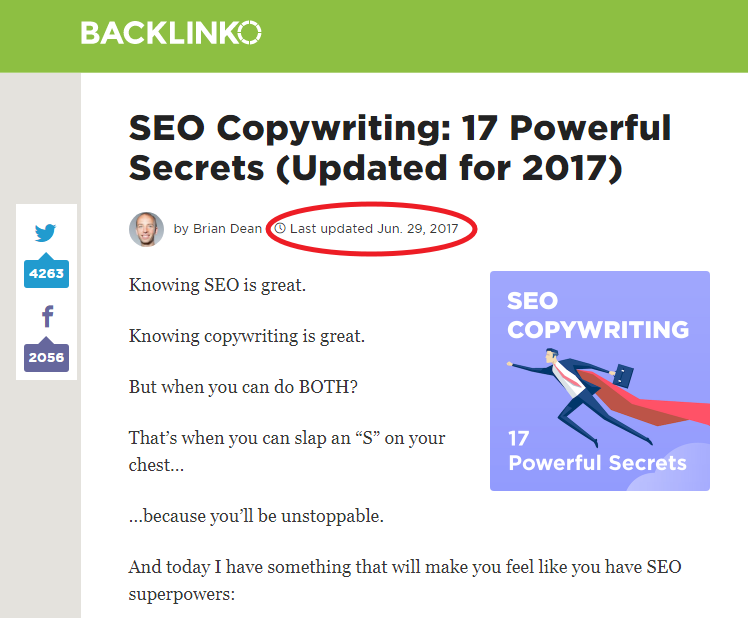 While it is vital to publish always, you can still get good results with posting once per month, as long as your content is extremely thorough and in-depth.
Domain age: The age of a domain matters a lot when it comes to earning Google trust.
Therefore, if your website isn't up and running, you might consider using a reasonable and affordable expired domain as it would instantly give you that age benefit.
SSL and HTTPS: Google recently announced that site security is now part of their many ranking signals.
There are two primary security protocols: SSL (Secure Socket Layer) and HTTPS (a secure version of HTTP).
Both of them are worth considering because they are essential for modern SEO, even if they won't significantly improve your search visibility. They provide additional security for your website.

However,migrating from a non-secure connection to SSL or HTTPS is somewhat tedious but important. If you're starting out afresh and you want to get a new domain, consider buying it as an option from your web hosting provider or domain registrar.
Page Speed: Just like every other thing we've talked about here, your website loading speed is very critical as it'll affect how both users and the search engines perceive your website. You, therefore, have to give it proper attention.
Page speed is an indicator as well as a ranking factor. Mobile users for one, are so concerned about speed. They are impatient (and so are you).
In a recent Google research, it's found that the average time it takes for a mobile landing page to load is 22 seconds. It gets interesting when you compare that with the 3 seconds visitors expect your web page to load up completely or they leave — and you'll see a huge discrepancy.
Your customers, website visitors, and prospects don't like to wait. We're living in a fast-paced world where instant gratification is trending. People want the right information, and they want it now. Page speed is vital to your overall SEO strategy. It's also useful for your user experience (UX), conversion, and easy navigation of your website.
Mobile Friendliness: Honestly if your page isn't mobile optimized, you're losing out on mobile users.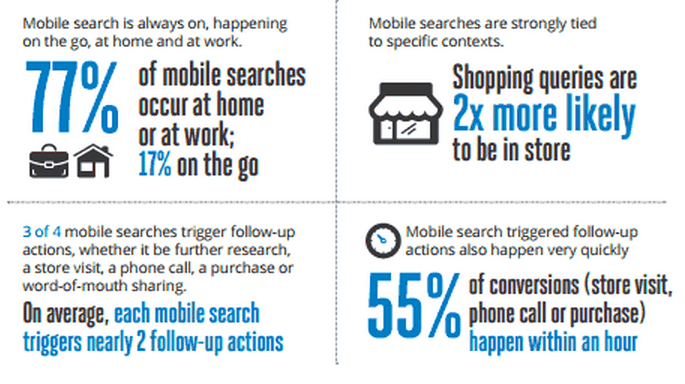 Considering the fact that "more than 500 million Facebook users (half a billion) access Facebook via their mobile devices every single day — Having a mobile-ready website is crucial for SEO.
While several ways exist for making your page mobile-friendly, I suggest you start by checking Google's Mobile-friendly Checker Tool to know how your website displays on mobile devices right now.

Interestingly, most of the premium WordPress themes out there are already optimized for mobile, and if not, there are many plugins on the WordPress Plugin depository that can take care of it.
When Google introduced mobile-friendliness as a ranking factor, a lot of website owners and marketers didn't take it seriously. In fact, the mobile-friendly algorithm update that was released on May 12, 2016, was aimed at giving an additional boost to mobile-friendly websites. Make sure your website displays well on every mobile screen — irrespective of the size.
Conclusion
We've finally come to the end of this massive SEO guide. By now, you should know that search engine optimization is no longer optional in 2021, but a must for any website and business that desires to succeed.
I'm sure you have enjoyed going through it.
Now, it's time to take the right action steps and implement the tips. When you do, you will be on your way to building a solid SEO campaign that will increase your online visibility in in Google search engine.