We've established that search engine optimization consists of two parts:
Basically, Off-Page SEO (also referred to as "Off-site SEO) is the steps and actions that you take outside of your own domain or website in order to improve your search rankings in the organic listings pages.
For example, when you reply a thread on your favorite discussion board and share your latest post URL, that's a form of off-page SEO. That single link you shared will send signals (if it's dofollow) to Google that your website has gained some trust from other websites.
Although off-page SEO involves a lot of other activities outside of your own website, the most important aspect is "link building."
What is a Link?
Links are the connection from one website or page to another website. So, the relationship or connection between Forbes, for example, and CNN is simply the link that search engine spiders can follow. Users also follow links to find information.
Here's a link on Entrepreneur.com. If you click the link, it takes you to another website.

Links act as a vote of trust for a website. Google, in particular, regards links as the most important factor that determines where a website should rank in their search engine results pages.
In SEO, there are two types of links:
Dofollow links: Search engine spider follows this type of link and reward both the linked web page with improved rankings and traffic.
Nofollow links: Search engine spider doesn't follow this type of link, neither does it reward it. Most links that you will get from authoritative websites like the NYTimes, Mashable, Techcrunch, will have the nofollow attribute.

These links are still great because users click on them and visit your website. But the nofollow attribute prevents this link from impacting your search rankings in any way.
However, you need to build both dofollow and nofollow links. This will make your link profile natural to search engine spiders.
Note: A link profile is the collection of links leading to your website. Google rewards links from a variety of industry websites as well as high-authority media platforms.
For a natural link profile, make sure you get quality links from blogs, social networks, website directories, review websites, education websites, government websites, and even wiki sites.

Types of links you can build
Links are the lifeblood of your website. In other words, without the right links pointing to your web pages, you will struggle to rank high in Google.
But, one of the worst mistakes you'll make is to wait for people to come and link to you, that's a loser's game. The best approach is to go after these links (although Google frowns at it well).
Whenever you're trying to build backlinks, consider these factors:
Quality of links:

Links are not everything but the quality of your links is what passes juice or value to your pages. In other words, the quality of the links pointing to your website matters more than the total number of links you have.
To build high-quality links that will drive your rankings, start reaching out to the right people and offering great value in exchange for a quality link.  
Google PageRank is absolutely not the only factor they look at when ranking pages in the SERPs. In short, it's become an outdated factor in the algorithm.
Trust is now pivotal in determining whether a particular website will rank in Google first page or pushed down to page 5.
Low-quality websites have no place to hide. The majority of the recent Google updates targeted at obscure and spammy websites.
Google uses TrustRank to determine whether your website is trustworthy or low-quality and spammy. If you appear like a big brand, Google will likely trust your website.
Getting high-quality backlinks from websites with high authority (like .gov or .edu domains), equally helps.
Getting links from authoritative websites is really important. If you're looking to rank a particular long-tail keyword that you're targeting in your content, 2 – 5 links from Entrepreneur, Forbes, Inc, Moz, and other authority websites will weigh more than 20 – 50 links from fairly-new websites that Google spider visits once in awhile, or a websites with no user activity.
The overall authority of your website is generally determined by a mixture of 2 kinds of authority you can create:
Page authority, which has to do with how authoritative the content of a single page is, and Domain authority, which relates to how popular your domain name is. For example, Inc.com is very authoritative — with a Page Authority of 74.


You can useMoz's Open Site Explorer tool to check your website authority, based on a scale of 1 to 100.
Anchor text
The anchor text of your link is as important as the link itself. If you don't know what it means, the anchor text is that "text" that becomes the link.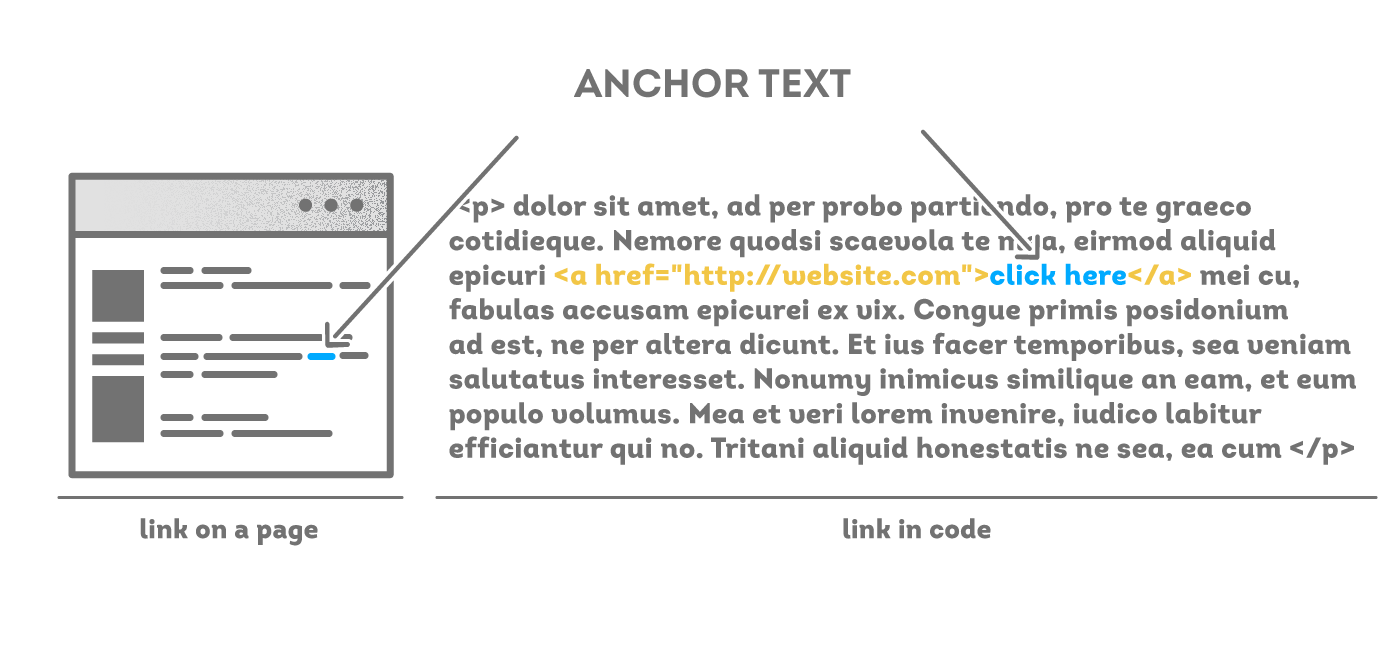 It's mostly used when other websites link to your content. Varying your anchor texts is part of the SEO best practices, but the right thing is:
The more natural the link texts appear, the better.
Here's a good example: You could either link to a post on "SEO best practices" by linking the word "visit here" or linking to the author's name, or by simply mentioning it naturally in the flow of your writing.
The second category is known as "contextual backlinks," and that's the one you should always strive for. Contextual links appear within the body of a post and use natural anchor texts. Here's an example: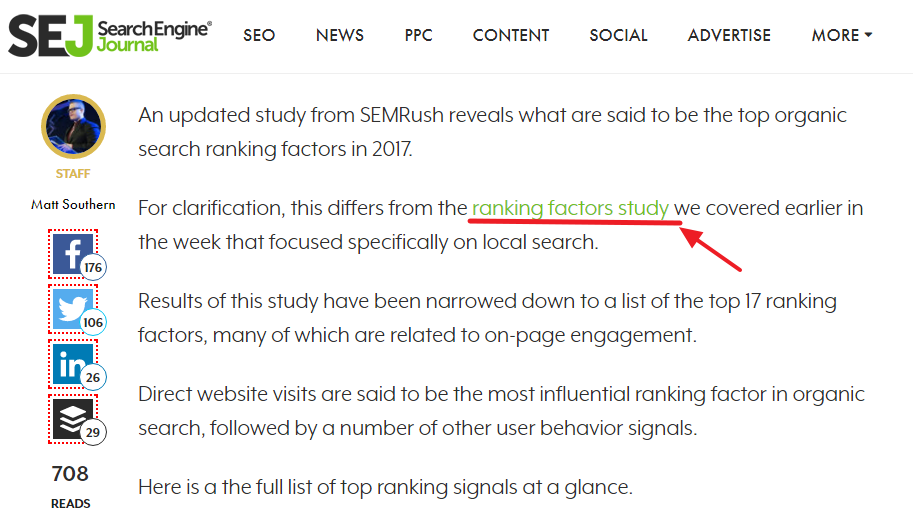 Number of links
The number of total backlinks to your web pages matters a lot too, and you need to build high-quality backlinks over time. It's not a one-off process; it's continuous.
Though the quality of links weighs more, the chances of getting links from CNN, Whitehouse.gov, Techcrunch, and so other authoritative websites are low. You still need to rely on industry blogs that are easier to get published and link from.
Instead of waiting for links to come naturally, go for it. Remember that it's almost impossible for Google to determine how useful your website is if there are no relevant links pointing to it — it doesn't matter how much time and effort you put into creating it.

It's important to prepare your website and its pages before you embark on link building. Don't skip it. Because most times, on-page SEO impacts the off-page activities that you're involved in.
Before building links, interlink your pages using random keywords — and give more priority to your brand name (as anchor text).
Make sure that none of your internal pages is standing alone. Include seamless navigation and optimize each page as much as you can. Search users need to know that you take pride in providing value on each page, and so do search spiders too.
When interlinking your pages, make sure that pages with a similar topic or related subjects are linked together in order to deliver that top-notch experience for users — even as you help search spiders to discover your internal pages and index them.

Having prepared your web pages to receive links, let's discuss some of the proven link building strategies that work:
Broken link building: Not many people use broken link building tactic to acquire the right links to their websites. A lot of people still use guest blogging (which is great too), but the former can get you links quickly without writing a new content.
If you can find dead or broken links on web pages and inform the author/website owner, you could earn relevant links.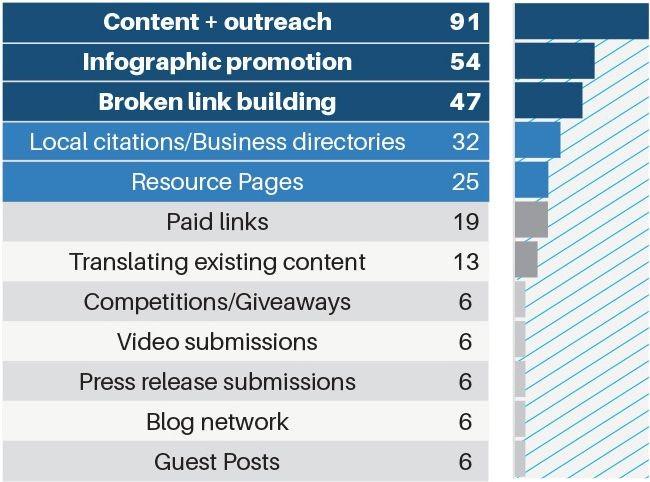 Broken links are those 404 pages. Yes, Google doesn't hate or frown at 404 pages because it's normal for a website to have them. But these pages don't deliver a good experience for users.
To find broken links, you first need to find resources pages or guides that link out to several websites.
Next, install the Check My Links Chrome extension for free. Then open the page you want to check. If there are broken links, you'll find them easily.

The final step you can take is to contact the website owner, let the person know about the dead link, and offer a replacement link. The site owner might include your link as a way of appreciating you for helping him locate a non-functional link.
Design and distribute infographics: Content can come in different forms. One of the ways to get the links you need to rank your web pages is to design an informative infographic, then distribute it on relevant directories, share excerpts on forums, use it as a guest post, or contact a site owner for them to mention or share it with their audience.
The downside to using infographics for link building is cost. A well-designed infographic can cost $1,000 or more. Alternatively, you could use Dribbble, 99Designs, or Upwork to find a professional graphic designer with expertise in this field. That can save you some money.

As a company, we've used infographics to build backlinks. But other marketers aren't left out. Ann Smarty earned 10 trusted links in 2 days after creating and distributing a single infographic. Right Casino Media also generated more than 10 search-friendly links from authoritative domains with its infographics.

Once your infographic has been designed, you can submit it to these websites and get links instantly:
Top 70 Infographics Submission Websites Lists 2021
The Definitive Guide to Conceptualizing, Designing and Promoting Infographics
Resource page link building: This method of getting links to your website capitalizes on existing resources pages that are relevant to your industry or topic. A quick search in Google using the search operator 'resources page + fitness' returns this resources pages;
When I clicked on the first result page, here's how the page looks like:

Since there are similar websites like yours (assuming you have a fitness-related website), you can contact the site owner and ask them to add your website; giving reasons why. Of course, your website should offer enormous value if you want to get a "Yes" which results in a link from these website owners.
Here's a simple email you can send the site owner:
Hi [First Name],
My name is [your full name here], and I'm the founder of [your website here].
I came across your resource link: [put the resources URL] and I'm impressed. You did a great job.
I've created a useful page on [Add the same topic], it'd add value to your resource page. Here's the link [paste your own link here].
All the same, keep up the good work.
Regards,
[Your first name]
For any resource link building campaign to be successful, you must be persistent and consistent. It's always a number game, so keep at it. Personally, I would reach out to 50 – 100 website owners and send them a link request email (of course, with a twist to make it unique to each person). If you get 10 persons out of 50 emails to send you link, that's awesome.
Guest blogging: This is basically blogging, except that you're contributing blog posts to another website. Traditional blogging is all about you, your blog, your content, and your community.
But when it comes to guest blogging, once the post goes live, you no longer have a right to it, but your link, traffic, brand awareness, sales, and increased search rankings are your rewards. But you don't own the content.
Guest blogging requires a lot of hard work. But the good news is that it's the only predictable form of link building. You can't fail, except you don't take it seriously.
Why? Because there are thousands of blogs that need fresh and valuable content to engage their audience and loyal readers. Due to time constraints, these blogs need you to write for them.
To find these industry blogs, head over to Google use this search query, 'submit guest post + smoothie'. Replace "smoothie" with your field. Here's the result I found:

There are probably millions of blogs that accept guest posts in your field. That's a lot of opportunities to build relevant backlinks. From your guest posts, your links could appear above the fold, within the content (this is ideal for SEO), or right in the author bio.
For example, here's a guest post on BufferApp's blog by Gregory Ciotti. He got a link above the fold which is awesome.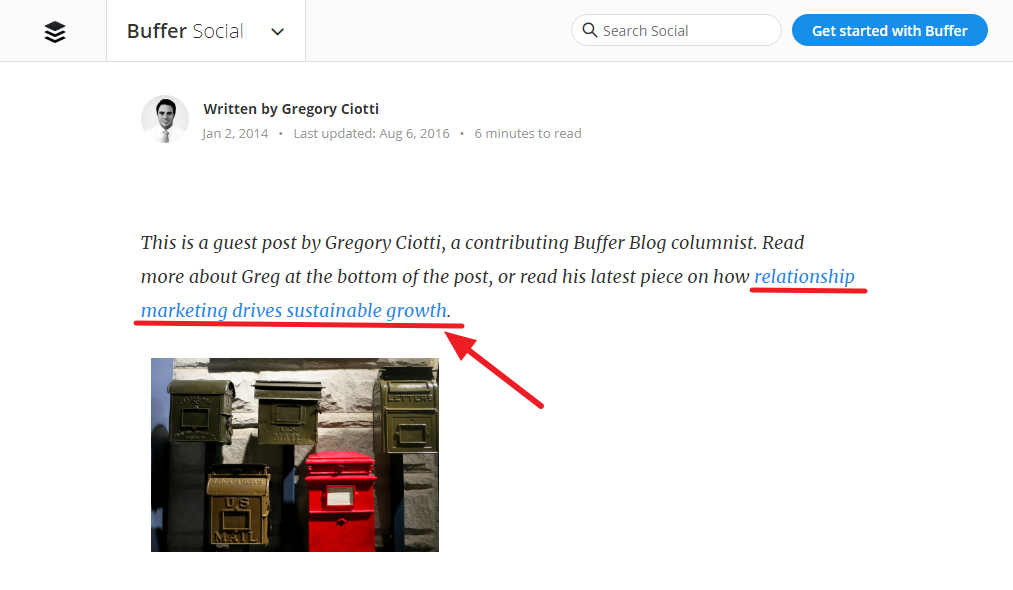 We'll discuss more link building strategies in a more advanced SEO guide. Please look out for it.