What does vertical search mean in SEO?
Vertical search is very similar to universal search, except that a vertical search engine focuses more on a particular category, a genre of content or media type.
Google is a perfect example of a universal search engine. Because it searches horizontally across different topics. When you perform a search for the term "stars" in Google, you'll get a variety of results ranging from celebrities in Hollywood movies to stars in the sky.
Similarly, TripAdvisor is an excellent example of a vertical search engine. When you search here, you're only going to find top hotel and travel suggestions.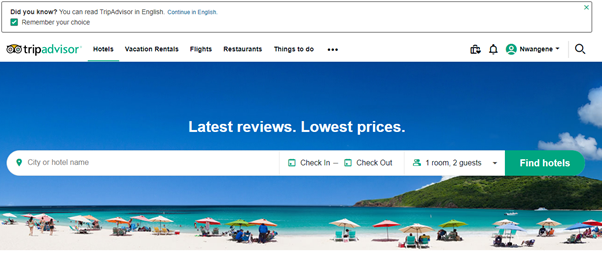 This type of search engine helps users to discover content about a specific industry, topic, or business vertical (hence the phrase "vertical search").
The content in question depends mostly on the search engine you're using for your search. For example, a video search engine would help users find a video on a particular topic; an ecommerce search engine would help users find products, an app search engine would also help users find apps, etc.
An enterprise search technology provider "Convera" recently surveyed over 1,000 professionals.
From the survey, they found that only 43% of business professionals usually find what they want from a horizontal search engine after numerous attempts, and half of those who don't see what they're looking for will then turn to a vertical search engine to further improve their results.
Now, if you have spent any amount of time on the internet, you certainly must have used a vertical search engine before.
Below are some of the most prominent players:
YouTube (videos)
Amazon (ecommerce)
Pinterest (images)
Yelp (reviews)
Kayak (travel)
Etsy (ecommerce)
TripAdvisor (travel)
Indeed (jobs)
eBay (ecommerce)
I'm not arguing that every business must have a well-optimized presence in all of these search engines. However, every company can almost benefit hugely from optimizing for some sort of vertical search.
In the U.S alone, many people are spending time on vertical search engines on their mobile apps. A 2015 ComScore study shows that:
"47% of total digital media engagement happened on apps, while in a recent report, they discovered that vertical search growth was outrunning core search growth (Vertical search grew 8% YoY, whereas Google searches declined 2% YoY)."
Why is vertical search valuable to marketers? This is because it helps marketers to discover:
Spectacular traffic growth
Google is terrible at it (whatever type of vertical "it" is)
Specialized intent
Super focused audiences
Now that you understand the meaning of vertical search, let's discuss some search engine optimization tactics for three of the most popular vertical search platforms.
YouTube Optimization
YouTube is undoubtedly the most popular video-sharing platform on the web where people can upload their videos, and search the platform for videos on any conceivable topic.
With more than 1 billion monthly users, according to Techcrunch, YouTube is one of the biggest search engines on the internet — for conducting a vertical search.
If you have a presence on YouTube or you're planning to build one for your business, be mindful of the following five YouTube Optimization techniques:
1). Do keyword research to discover what people are searching for in Google: Here's the truth: If people are searching for a particular keyword in Google, they are most likely using those keywords on YouTube as well.
For example, someone searching Google for a guide on "how to knot a tie" may later discover after reading it that having an actual real-life demonstration of the process would be helpful and then move over to YouTube watch a video.
Interesting, the third search result for that search term is a YouTube video — because knows that a live demonstration will be more enriching for the searchers.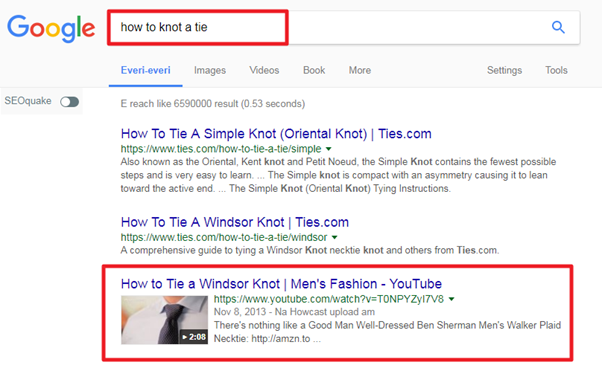 To get more visibility for your YouTube videos, and drive massive traffic to your videos, make sure your videos are keywords-rich and valuable.
It is, therefore, always an excellent idea to search for your target keywords in Google to see if there are other videos already showing up on the search engine results pages (SERPs). This is because if they are, it's safe to bet that Google is displaying video content for that search term.
2). Create captivating videos based on that research: This is arguably the most critical part of the process. If your video is not engaging and compelling enough, no amount of optimization will make up for it.
That's why you should ensure you try your best to make your videos as entertaining and informative as possible while also surrounding it with the right keywords.
3). Encourage viewers to comment, like and subscribe to your channel: This is similar to the second point above, and I can't stress it enough; make good videos! An unhelpful or boring video is never going to rank well. This is because it'll lack the user-engagement metrics YouTube's search algorithm uses to determine how high to rank a video.
A massive number of video likes and comments show how engaging a video is, as does the average view time of your videos. Take this into account.
Another important metric to look at is whether or not people are subscribing to your YouTube channel after watching a video. The subscribers you amass, the more YouTube will rank your videos because it only indicates that people are enjoying your video content and want more.
To get better results, brave up and ask people to subscribe to your channel. Smart YouTubers usually do this at the end of each video, after you have built a level of trust with viewers who enjoyed your video.
4). Optimize your video title, tags, description, and filename for keywords: Use your video's target keyword everywhere. If you created a video on "Cleaning a Rug," you should name your video file name "cleaning-a-rug."
The title of the video can be "5 Tips for Cleaning a Rug." If you're targeting the keyword "Peachtree Center Cycletrack," then make sure you use it in the title tag, meta description, and tags.

For tags, add some keywords that are highly relevant to your videos to help YouTube understand the topics of the video, and to also have your video come up under "Recommended Videos" when a user watches a different video on the same topic.
Last but not the least, craft long keyword-rich descriptions. This will give YouTube lots of useful information about your video. It can't understand what your video is about on its own. Apart from YouTube, this is equally helpful for the video viewers so they can learn more about what they will be watching.
5). Radically promote your videos to get a massive number of viewers: Here's what you should know: your total number of views will largely contribute to how YouTube will rank your videos. While it would be exciting to get a bunch of views just from people organically searching for it, you'll absolutely find much better success when you promote your videos.
Here are some useful ways to which you can promote your videos:
Set up a video section on your website or blog and make it accessible to your readers.
Post videos (when relevant) on places like Quora or Reddit to reach a new audience.
Share new videos on your social media channels like Twitter, Facebook, Pinterest, and LinkedIn.
Provided the view is from a real person, it doesn't matter where they come from.
Amazon Optimization
Amazon's Ranking Algorithm (aka A9) is evolving and becoming more complex as the day goes by. You need to pay attention to the ranking factors that influence these algorithm so that you can rank your product pages higher in the Amazon search engine.
Similar to Google, Amazon cares about consumer interaction. If your product information provides value to users, half the battle of increasing visibility is won.
Amazon is apparently the largest ecommerce website in the world, which lets individuals and businesses sell pretty much any imaginable product on it. If you're into ecommerce business model and you don't have your product in the Amazon marketplace, you are indeed missing a tremendous opportunity.
A recent study from BloomReach confirms that "55% of Americans often start their product search on Amazon, while only 28% of the shoppers begin on the major search engines like Google.
Now, this is a significant boost from the previous year when BloomReach discovered that 44% of Americans begin on Amazon and 34% on major search engines.
So how can your product come up higher in Amazon search? Here are the 5 most critical Amazon optimization techniques that work:
1). Generate lots of positive, verified reviews: People will always trust online reviews. Consumers rely on reviews when making a buying decision.
So how do you get the reviews?
It's simple: Encourage every one of your customers that purchased your product to write reviews. You can do this by sending them follow-up emails, and whenever you receive a negative review which is inevitable, respond to it in a professional and understanding manner.
As long as your product is good; your customers will always be happy to leave you a review. And a negative review when appropriately handled can create a positive outcome for your business.
2). Maximize your conversion rate: Amazon takes a product's conversion rate as their number one ranking factor. Amazon wants to display their best-selling products more prominently which makes a lot of sense.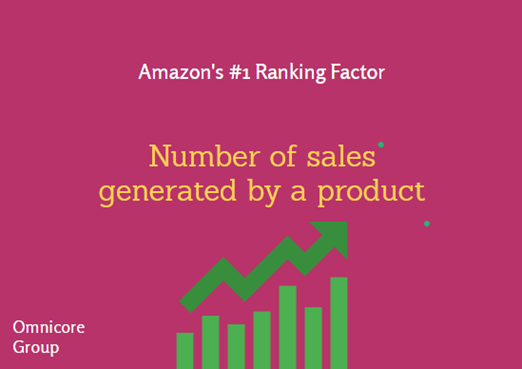 There are a variety of ways to boost conversion rates — but the two most important is by offering free shipping and competitive pricing.
When it comes to product pricing, a good strategy is to offer your product at a lower initial price to increase your conversion rate, and then once you've secured a top spot in Amazon search results, gradually raise your price back to a more profitable state.
As for shipping, if you can possibly offer free shipping, don't hesitate to do it; statistics have shown that 80% of people are more likely to purchase a product online if it is shipped for free.
3). Take Part in Amazon Prime: Amazon Prime members involve people who pay a certain amount yearly on the platform for a variety of benefits. This group of people outspend non-Prime members on Amazon, and are more likely to purchase on Amazon, and also more likely to begin their product search on the website.
Therefore, it's good to have Amazon fulfill your products, as Prime members will then receive a two-day free shipping for your product, and this will make your product to show on top of the search results.
You can learn more about Amazon fulfillment here.
4). Perform keyword research and optimize your product pages based on your target keywords: Keyword research is always essential not for Google or YouTube alone, but also for Amazon.
When you search for "wireless keyboard" for example, you will notice that the best sellers have keywords in their titles. Take a look: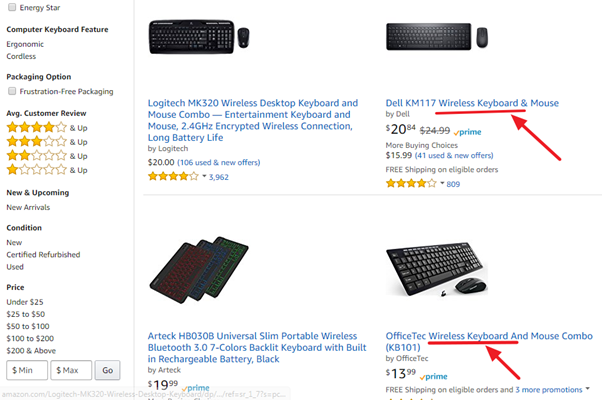 In terms of keywords, use as many different variations to optimize your products. As an example, when I search for "multivitamin" I got 10,000 results.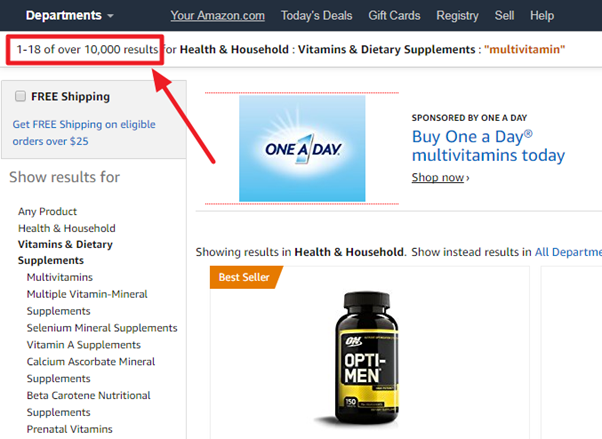 Interestingly, when I search with the "multi vitamin" variation, the number of listed products increased to 20,000 results. In this case, it can be seen that competition is high for this keyword variation.
Therefore, instead of using the "multi vitamin" term in your product title and descriptions, you're better off targeting "multivitamin" – where the competition is lesser.
You can use keyword research tools like Ahrefs to get an idea of the key phrases people are using to search for your products.
Then choose the best keywords that are relevant to your product, and add them to your product page.
An essential on-page elements are the product description and page title. And talking about product descriptions, write unique and engaging ones.
Don't use the manufacturer's default description as they often exist on lots of other web pages, and isn't good enough to set you apart from the competition.
5). Ensure you put your product in the right category: This may seem obvious but a lot of people don't take it seriously. Think carefully about which categories you want your product to appear.
For instance, if you are selling smartwatches for fashion, you certainly want to show up under Electronics, and you may also want to show up under Clips, Arm & Wristbands, and Sports & Fitness.
If you aren't under all of these categories, someone searching for a wristwatch that tracks their heartbeat in the Sports & Fitness category won't see your product at all. Endeavor to use your keywords in the title as well.
App Store Optimization (ASO)
With more than 2 million mobile apps listed on the major app stores today, getting your app discovered is one of the most significant challenges mobile app publishers are facing today.
If you're in the mobile app industry, knowing the various methods of marketing your app is very essential. Here, we're going to share with you some of the things you should do to boost your chances of having your app show up in the store. Here are the various ways people discover your app, according to Apptentive.
As you can see from this chart, more apps are found through search than any other method.
But before we discuss how you can optimize your app pages in the mobile app stores to rank highly in Google, let's cover how to rank your apps higher in Google Play and Apple iTunes stores.
How to Rank Your app in Google Play Store and Apple App Store and get more downloads:
i). Develop a great app with unique features: If you want to stand out from the crowd and make impact with your app, then it must be unique. It must offer features that apps in the same market or category don't offer.
Essentially, your app must be updated as well, so that you can continually improve functionality and design.
ii). Start building your online presence: Every effort you put into getting the word out about your app will affect its ranking in both Google and Apple Store. Remember that Number & Value of Reviews, Downloads, Social Proof, Keyword Relevance, etc., as App Ranking Factors.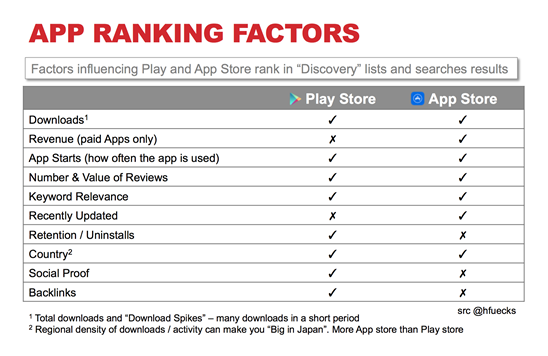 The good news is that building an online presence on Facebook, Twitter, Tumblr, blogs, online communities, will result in links, reviews, and social proof.
Even before you launch your app, you need to put it the spotlight; everywhere. Tell everyone that will benefit from it through word of mouth, while in the development stage, share progress on discussion boards with your fans, start a blog and start creating educational content around the topic of your app.
For example, if you're going to launch a "Productivity Mobile App" then you can start a blog where you share insights on getting work done, eliminating distractions, meeting up with deadlines, and growing a side business.
The more informative content you produce and share with your audience, the more trust you're building with them. When your app is finally launched, more people will download and start using it.
iii). Offer your app free at launch: From personal experience, free mobile apps get the most downloads. It's true that you have probably spent $10,000 – $50,000 to develop this app, it doesn't sound good giving it all away. Right?
Sure, you do have a point there. But what you're after especially at launch is to get as many downloads as possible. Since "downloads" is a ranking factor in the App Stores, it then means that once you're gaining traction for your app, you can start charging for it.
Better yet, make it free for a few weeks to stir curiosity, drive engagement, and increase downloads
Make no mistakes, free apps get more downloads than paid ads. Here's a chart that shows the difference.
Note: Offering your app for free at launch will trigger an excitement in the App Store/Play Store platforms. In turn, this will create a form of engagement that will cause the algorithm to work in your favor and boost your app rankings.
iv). Ask your users and rate and review your app: An effective way to increase visibility in both Android and iOS App stores is by getting positive reviews and ratings from users. Remember that users and algorithms are responsible for boosting your rankings, but when it comes to downloads users are the only ones you can expect.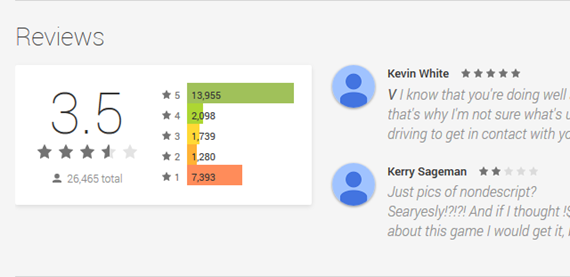 Hence, asking users who downloaded your app to leave reviews, especially when the app is free would work. By simply asking for reviews, you're helping users make informed decisions — because they rely on other users' reviews, opinions before downloading an app.
If your app shows a lot of valuable and positive reviews and ratings, both the App Store and the Play Store algorithms will use this factor to favor and push your app to the top of the search results.
v). Improve your App Store Optimization: App Store Optimization is an important aspect of app development. You simply cannot ignore it.
ASO is the practice of optimizing and improving a mobile app's visibility in the parent platforms (Google Play Store and Apple App Store); ensuring that the app title, description, screenshots, keywords, are optimized according to the stores' standards and ongoing trends.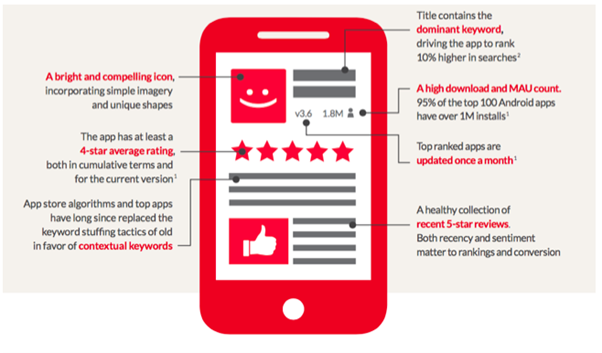 ASO will help you boost app rankings in both the native platforms and search engines.
ASO is similar to SEO and it's gaining popularity in recent times. You need to pay attention to it and learn all you can. In the end, if you're good at search engine optimization, you can easily master ASO as well.
That being said, here are proven ways to make your apps to always show up in search?
1). Understand your competition and your customer: Let me start by asking you a question. How well do you know your competition and your customers?
An effective app store optimization strategy centers in understanding how your customers use your app, together with a deep understanding of the competitive landscape. To begin, you need to provide an answer to the following:
What competitive advantage do I have?
What language do my target customers naturally use?
How would they possibly describe my app?
What keywords are my competitors targeting?
What are the top reasons why my customers are downloading and using my app?
Should I target the very obvious or the less obvious (and less trafficked) keywords that better speak to my unique offering?
How can I easily compete with these apps on the same keywords?
2). Choose the right app name: Deciding on a unique name for your app is not just a matter of branding. For the best app store optimization results, use a catchy and brandable name for your app, and also include relevant keywords within your app title as this text mostly factors into app store search results.
The guys at TUNE recently surveyed the top 25 app ranking positions and discovered that apps that have a relevant keyword in their title ranked, on average, 10.3% higher than apps without a title keyword.
This is something to think about.
The mobile app 8fit uses three keywords in the app title. Take a look:
Note: Don't stop at the titles, use keywords in the app subtitles to further drive relevant to the product and improve the app's page organic visibility. Particularly in iOS 11, you can mix the keywords between the title and subtitle. Take a look:
3). Create a magnetic description: Aside from having your target keyword in the app title, the description of your app should also be targeted toward your customer base, rather than a search engine index. The description should be seen as a call-to-action (CTA) for potential customers.
The best approach is to describe what it does in simple and precise language, mention all the unique benefits it has to offer and enchant the reader to download it.
You've already made the app store to understand that your app is relevant to a particular list of keywords; it's now time to convince your prospects into believing that it meets their needs.